Energy Supply Base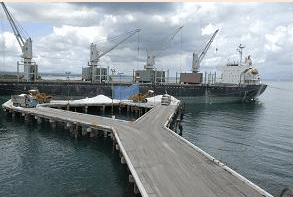 PNOC continues to efficiently manage and operate the Energy Supply Base (ESB) located in the municipality of Mabini, Batangas and which covers a total area of 19 hectares.
The ESB was created under Letter of Instruction No.563 dated June 24, 1977 which directed PNOC to provide easy availability and accessibility of support and logistics facilities for onshore and offshore exploration activities in petroleum and other energy related fields. It has extended its services to other commercial clients pursuant to the grant of a Permit to operate as a private commercial port (Certificate of Registration No. 291) on October 1996 by the Philippine Ports Authority (PPA).
The PNOC and PNOC-EC Boards approved the transfer of operations of the ESB from PNOC-EC to PNOC in February 2017. The transition and turnover of ESB's operations and corporate services functions from PNOC-EC to PNOC was completed on December 31, 2017. Thus, on January 1, 2018, administration and operations was assumed by PNOC.
Aside from the continuous rehabilitation and repair of existing facilities, PNOC has programmed the development of the port to allow extension of the piers to reach the 12-15 meters depth of the Batangas Bay. The new pier will provide the support and logistic facilities as PNOC EC together with other exploration service contract holders aggressively pursue its exploration activities.
ESB Operation Guidelines No. 21-001 Implementing Guidelines for Accreditation of Service Provider
ESB Operation Guidelines No. 18-001 Implementing Guidelines for Accreditation of Cargo Handling Operator
Energy Supply Base Master Development Plan
Video on ESB Port Development Plan
---
PNOC Industrial Park Operations
The PNOC Industrial Park (PIP), a 530-hectare property located in Limay and Mariveles, Bataan, is home to companies involved in the Petrochemical and Energy-related industries. The PIP provides basic services such as the provision of raw and fire water, power, and jetty services to its locators. To better serve its clients, the PIP continues to maintain and upgrade its facilities and equipment.
As the holder of the Programmatic Environmental Compliance Certificate, the only one of its kind in the Philippines granted by the Department of Environment and Natural Resources (DENR), the management of the PIP enforces strict compliance to Health, Safety, and Environmental protocols, establishing its Health, Safety, Security and Environmental (HSSE) Program.
The PNOC Industrial Park is ISO IMS Certified for its Quality Management Systems (ISO 9001:2015), Occupational Health and Safety Management Systems (ISO 45001:2018), and Environmental Management Systems (ISO 14001:2015). The PIP passed its first Surveillance Audit conducted last December 15, 2020 for the above international certifications, and has been recommended for continued certification since 2016.
The Park Management Department manages the PNOC Industrial Park.